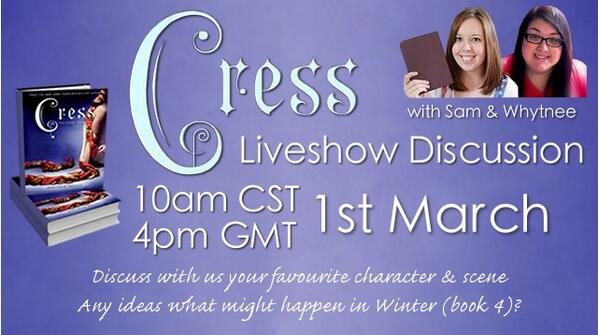 Hello fellow readers,
This coming Saturday (1st March)
Whytnee from BooksAreLovex3
and I will be hosting a
Google Hangout
discussing Cress by Marissa Meyer, Book 3 in The Lunar Chronicles Series.
I will post a link to the Google Hangout on my blog after the liveshow but if you want to participate and let us know you favourite scenes and character then please subscribe to my
YouTube channel
and
Twitter
to receive alerts and links to the live stream. Click the buttons below for all the Cold Tea and Crumbs YouTube goodness :-)
Follow @ColdTeaCrumbs
Also don't forget to subscribe to
Whytnee
and if you want to know more about her then
check out the interview I did with her last year
.
Follow @booksarelovex3